Fanning the Flames
The corporations destroying the Amazon and worsening the COVID-19 pandemic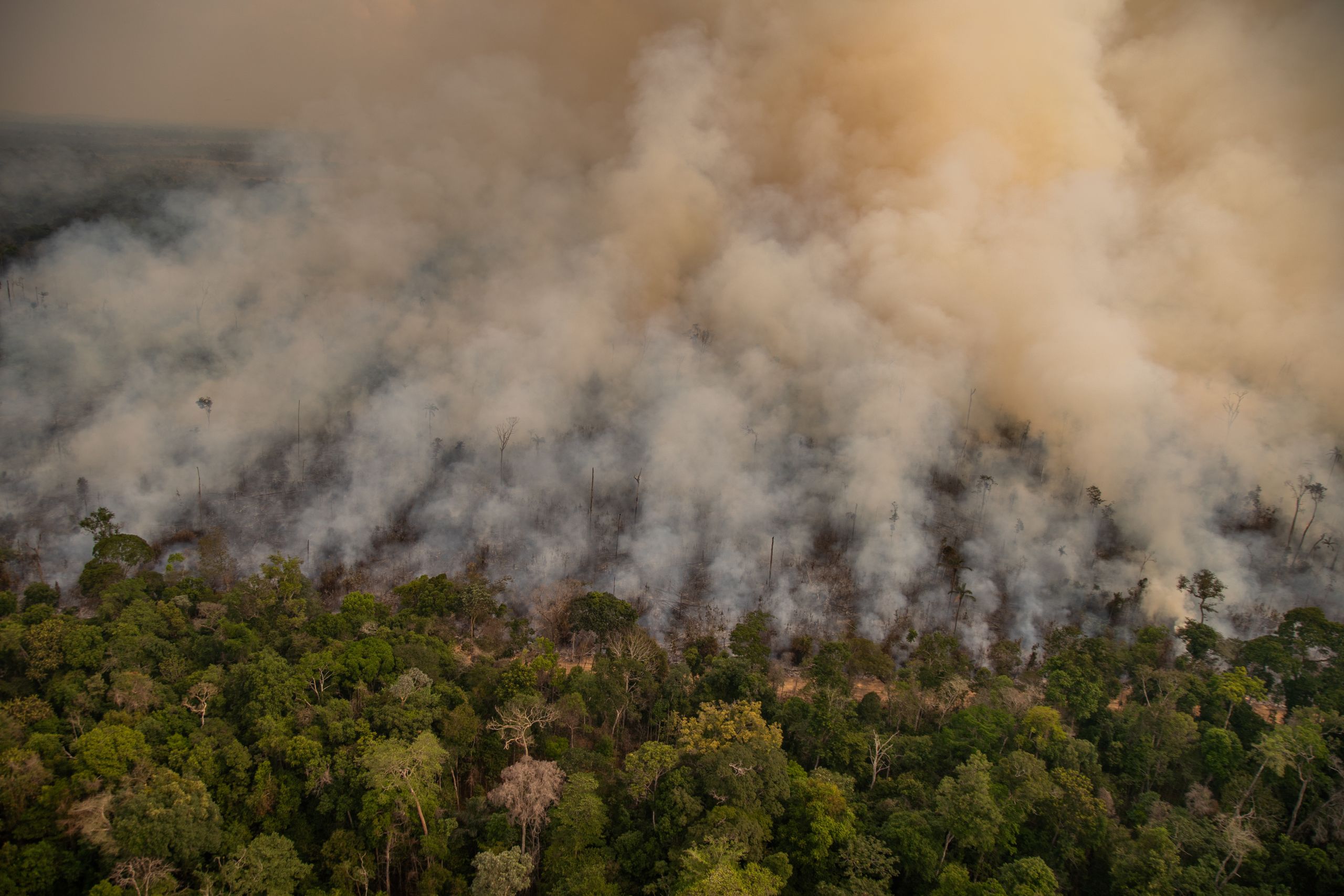 Plumes of smoke rise from a fire in the Amazon. Photo Credit: 2020, Christian Braga/Greenpeace
Plumes of smoke rise from a fire in the Amazon. Photo Credit: 2020, Christian Braga/Greenpeace
Key Findings
Between July and August, the number of fires in Brazil surged to more than double the total recorded in the previous months of 2020.
Fires were highly concentrated in three distinct 'hotspots', all areas of industrial agriculture expansion.
Using supply chain data, Mighty Earth has found that beef companies JBS and Marfrig are linked to deforestation and land conversion in these areas. JBS and Marfrig account for over half of Brazilian beef exports. Their products are sold worldwide - even by retailers who claim to stand against deforestation in beef supply chains.
Fires have been directly linked to beef and soy trader company supply chains and are commonly used as a method of land use conversion.
The three fire hotspots have seen more than twice the number of COVID-19 cases compared to the national average, linking cattle-driven deforestation to heightened risk of complications from COVID-19 due to the respiratory impact of smoke.
---
In 2019, the world watched in horror as fires ravaged the Amazon. Around the globe, citizens and politicians spoke out against the fires and the circumstances that allowed for such devastation to happen on social media. They took to the streets and made commitments to live more sustainably as individuals. But there was a blaring hole in much of the world's response: the lack of a culprit or a cause.  
Mighty Earth's 2019 report The Companies Behind the Burning of the Amazon used satellite imagery and supply chain data to identify the companies most responsible for driving the fires - fires which were by no means "natural." The report identified beef and soy producers – and the retailers around the globe who supply their products to the public – as the main drivers of deforestation and fires in the Amazon.   
Bolstering the work of Indigenous and local communities on the ground, Mighty Earth and our community of partners and climate activists called on the top culprits to rapidly implement zero-deforestation policies and eliminate the market incentives that promote reckless environmental destruction.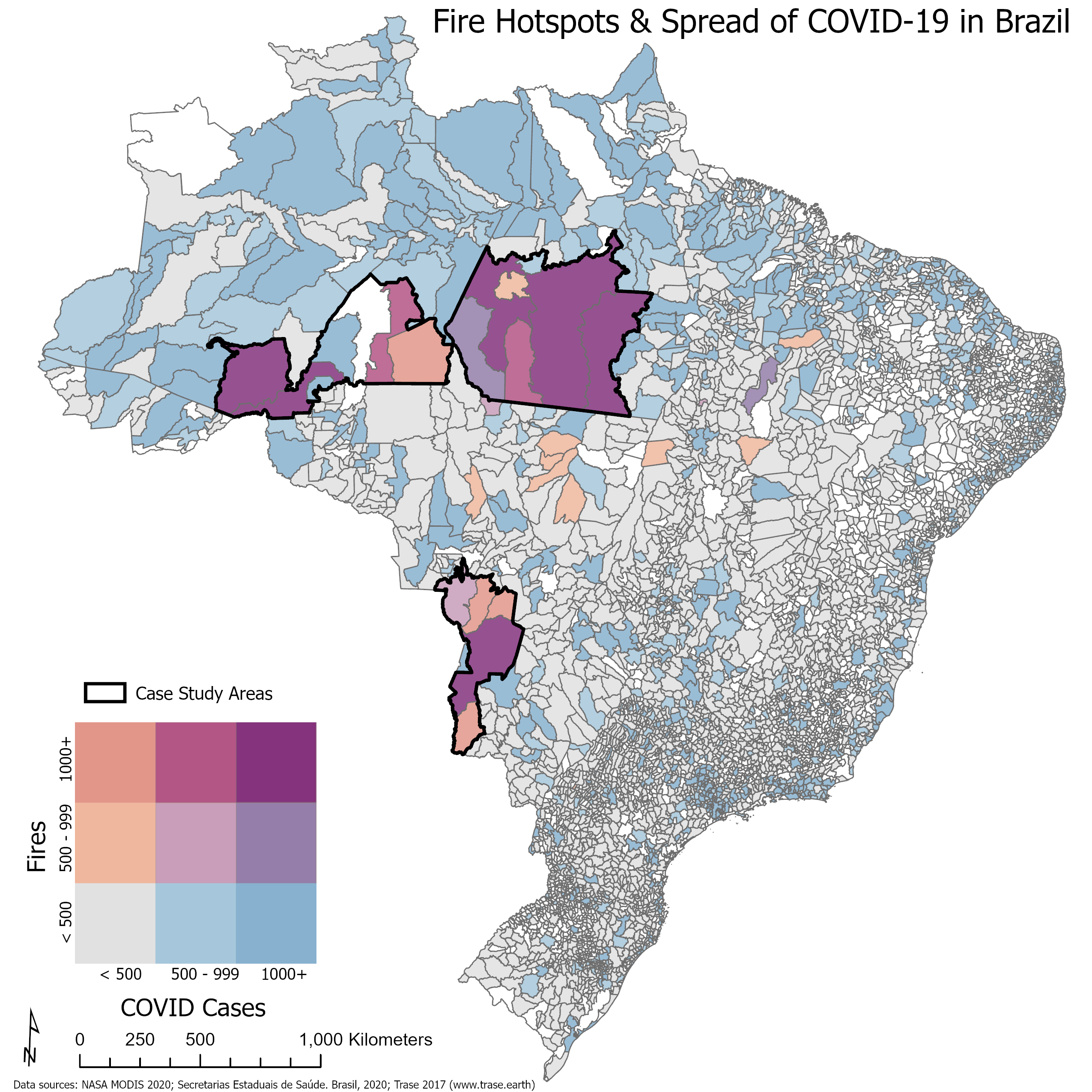 Global supermarket and fast-food brands have promised to eradicate deforestation from their beef and soy supply chains but have only taken surface-level actions and continue to buy from destructive producers. Meanwhile large soy traders (Cargill, ADM, and Bunge) and beef processors (JBS, Marfrig, and Minerva) have done little to halt the destruction. Despite promises made by global consumer brands, in 2020 Brazil saw 10,000 more fires than the previous year (as of August 31, 2020).
Focusing on three hotspots, Mighty Earth, in collaboration with MapHubs, links this year's fire season data to Brazil's beef production. The study also links beef production to environmental destruction and increased COVID-19 threat. Tragically, areas most exposed to fire risk are also experiencing some of the highest cases of COVID-19 in the country. Further, many of the same companies named in last year's report are linked to this year's fires and have failed to follow through on their zero-deforestation commitments.
The fires raging across Brazil cause devastating environmental damage in the Amazon Rainforest – home to 60 percent of Brazil's Indigenous population and more than 3 million species of plants and wildlife – destroying our planet's most valuable carbon sink. The fires fuel climate change, cause respiratory illnesses, destroy habitats for wildlife, and displace Indigenous people from their lands. This year, the fires exacerbate the health risks of COVID-19 with greater health risks due to smoke from the fires.
With governments largely failing to act to address the fires, it is more urgent than ever that companies recognize their role in driving the fires and take action to shift the market incentives that fuel these fires in the first place. Retailers who sell deforestation-linked beef products to the public, such as Ahold Delhaize, Casino, Costco, and Metro AG, must immediately implement zero-deforestation policies in their beef supply chains. By establishing strict deadlines for their beef suppliers to end their deforestation practices and refusing to renew contracts until higher standards are met, these retailers can reshape the soy and beef industry.
Deforestation and the next pandemic

Deforestation is the number one driver of new infectious diseases, as expansion into native ecosystems escalates human-to-wildlife interactions. Continued destruction of the Amazon is likely to cause the next global pandemic, as indicated by recent findings that land use change was the primary driver of all zoonotic infectious diseases that have emerged since the 1940s. Novel infectious diseases are often transmitted to humans via other species, which increases as humans encroach upon untouched ecosystems via poaching endangered species and illegal deforestation. The Amazon Rainforest, one of the planet's most biodiverse ecosystems, holds the key to unlock critical medicinal developments or unleash untold challenges to global public health.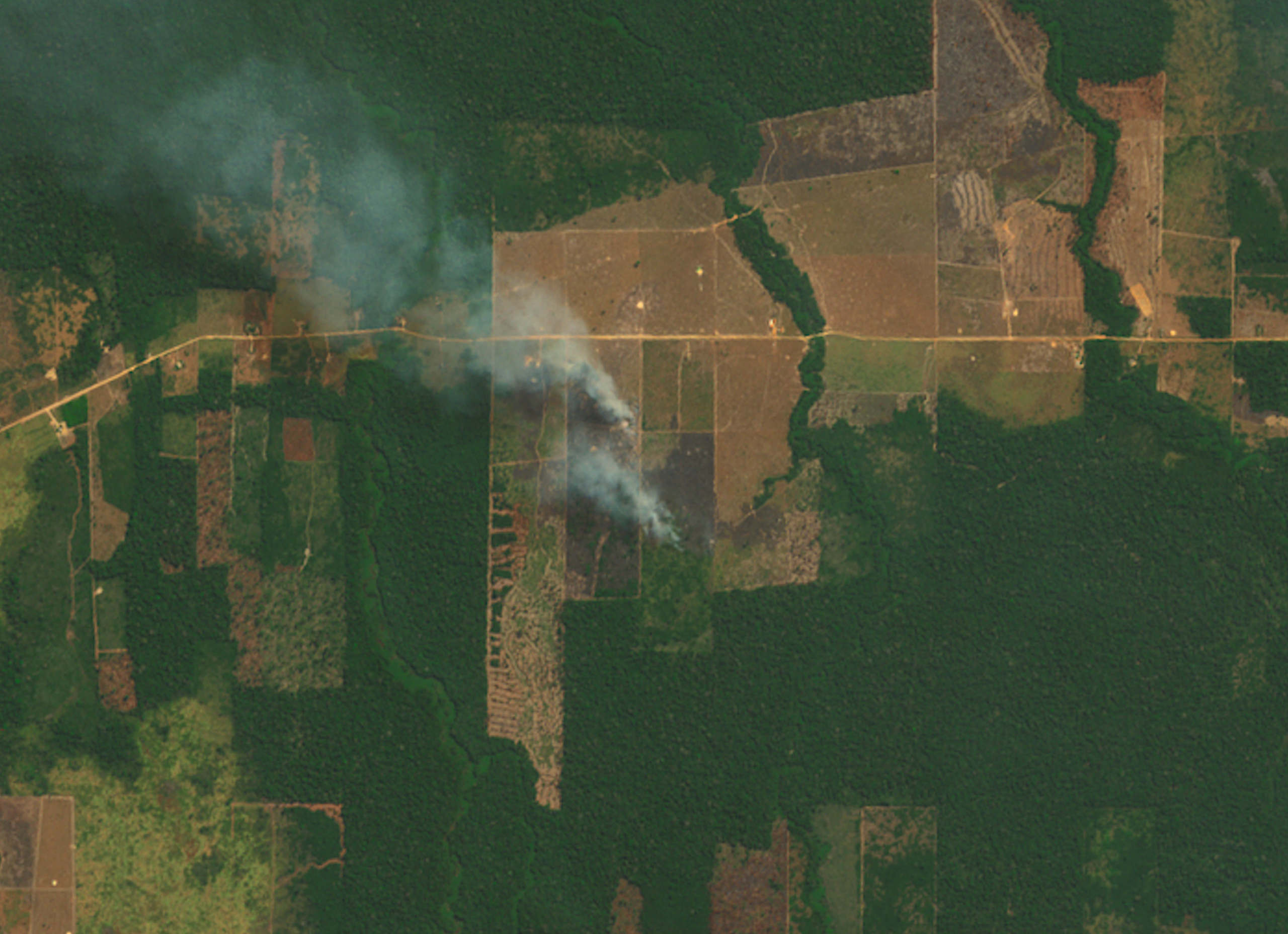 Porto Vehlo Smoke. Photo credit: 2020, MapHubs.
Porto Vehlo Smoke. Photo credit: 2020, MapHubs.
Background 
Fires and COVID-19 
July and August of 2020 witnessed an unprecedented scale of fires in Brazil. Despite Bolsonaro's declaration in July banning fires for the duration of the burning season, the fires reached a 10-year record high. In the same month as Bolsonaro's ban went into effect, 28 percent more fires occurred compared to the previous year. During this period, Brazil grew to be second only to the United States for COVID-19 cases, with more than 3 million confirmed cases by August 2020. The smoke from fires exacerbates respiratory problems and Brazil witnessed a significant rise in hospitalizations and loss of life during the peak fire season in 2019. In the context of COVID-19, this year's fires are likely to compound existing health risks of surrounding populations.  
Indigenous Communities 
The impacts of fires are doubly felt by Indigenous communities. These communities are often underserved by health infrastructure and have lower immunity to respiratory illnesses, indicating a high likelihood of more severe illness from contracting COVID-19. Furthermore, Indigenous communities face land grabbing and violence perpetrated by beef and soy producers seeking to clear land and expand industrial agriculture. Last year alone, 24 land defenders were murdered in Brazil for refusing to give into intimidation by industry. Additionally, members of Indigenous communities often work in the same slaughterhouses purchasing cattle raised on this land. These slaughterhouses are hotbeds for COVID-19 outbreaks, exposing workers to infection that they then bring back to their communities. These fires are emblematic of the constant pressure Indigenous Peoples face in their role as guardians of global biodiversity and further highlights the urgent need for global brands to ensure their suppliers are respecting land rights and the health of local communities. 
Drivers of Destruction: Beef and Soy Production
The use of fire as a method to intentionally clear area for use as cattle pasture or for crop production is quite common across Brazil. Wildfires – those that occur due to natural means – are exceptionally rare in the Amazon Rainforest because of how much moisture is retained in the ecosystem. Intentional burning is typically used after loggers have cleared an area (often illegally) of the biggest trees. After the logs and exposed land are left to try, they are easily set ablaze. These fires are detrimental even when contained, but often burn uncontrollably, extending to vast swaths of forests outside intended areas.  
After land is cleared with fire, it is often next used as pasture for cattle. Chain Reaction Research found that cattle ranching was responsible for 80 percent of forest clearing in all countries in the Amazon Basin, and in Brazil alone is the largest single driver of deforestation. Moreover, the fires in 2019 were found to be three times more frequent in cattle-producing areas. Cattle may often be found on recently cleared areas as a means of establishing informal land rights and preventing re-growth of vegetation (via sustained grazing) for productive of the use of the land. Ranching is concentrated within the North and West regions, across the Amazon, Cerrado, and Pantanal biomes.
The Role of Soy 
Once cattle have grazed recently cleared areas, pastures are often converted for soybean production. Soy – a more profitable crop used predominantly for animal feed – can heighten the land's value and incentivize further clearance for new pastures, especially as both beef and soy production have grown immensely in recent years. Research by Trase found that for every 1 ha of soy expansion into former pasture, there was at least 1 ha of deforestation for cattle. This indicates that soy traders like Cargill, ADM, and Bunge also play a role in driving the fires by incentivizing burning and deforesting land. Global brands that buy from these traders need to have a clear cut off date for soy from converted areas to avoid fueling land speculation that leads to extensive clearing. 
Analysis 
Scope
Using data from the Brazilian Government, NASA, and Trase, we sought to identify where fires across Brazil were occurring and the companies most responsible for the destruction. We narrowed our scope of analysis to those municipalities experiencing more than 300 fires during the peak burning period (July 15 – August 16, 2020). Our analysis is focused on the intersection between the fires, beef production, and the spread of COVID-19 in these regions with the greatest number of fires and COVID-19 cases.
Methods
This report is informed by analysis at a municipality level of the number of recorded fires, and total recorded COVID cases relative to population. Spread of COVID-19 was assessed by analyzing recorded cases to total population of each municipality in comparison to a national average (total recorded cases of COVID-19 by total national population). To determine key supply chain drivers in each area we looked to Trase's most recent available data on the beef industry (2017), to identify the location of slaughterhouses by the top three companies, volumes of exported beef per company, and deforestation risk per company. Although only 20 percent of Brazil's beef is exported, we use export volumes as a proxy for company presence within a particular municipality, in conjunction with the location of their assets.

It is important to note that the hotspot regions identified in our analysis represent the frontiers of new agricultural expansion, and thus companies planning to source cattle and soy from these regions may not yet have developed the infrastructure to do so. The accuracy of our findings is also relative to 2017, so they are potentially skewed as they do not reflect the sector's expansion over the last three years. Further explanation of the methods used in this analysis can be found at the end of this report. Below is a table summarizing the data assessed for each hotspot, as well as cumulative and national figures for easier comparison. Each hotspot summary also includes a table with municipality-specific data and a map illustrating fire locations and beef production facilities. 
Findings: Cattle industry drives devastation at the frontier 
Fires peaked to a 10-year high in Brazil this year. Almost 60,000 fires were recorded across Brazil between July 15 and August 16, representing more than half of all the fires recorded this year. Just three companies – JBS, Marfrig, and Minerva (referred to as the 'Top 3 Companies' in the table below) – are responsible for 72 percent of beef exported in these hotspot areas. Cumulatively, these hotspot municipalities reported 47,988 cases of COVID-19 as of August 16, which is a rate more than twice the national average when accounting for population density. In Pará, Amazonas, and Rondônia, the COVID-19 infection rate is more than twice that of the national average. While our analysis does not seek to suggest causality, it is important to highlight the concurrence of fires related to the beef industry with COVID-19 given the compounding health impacts.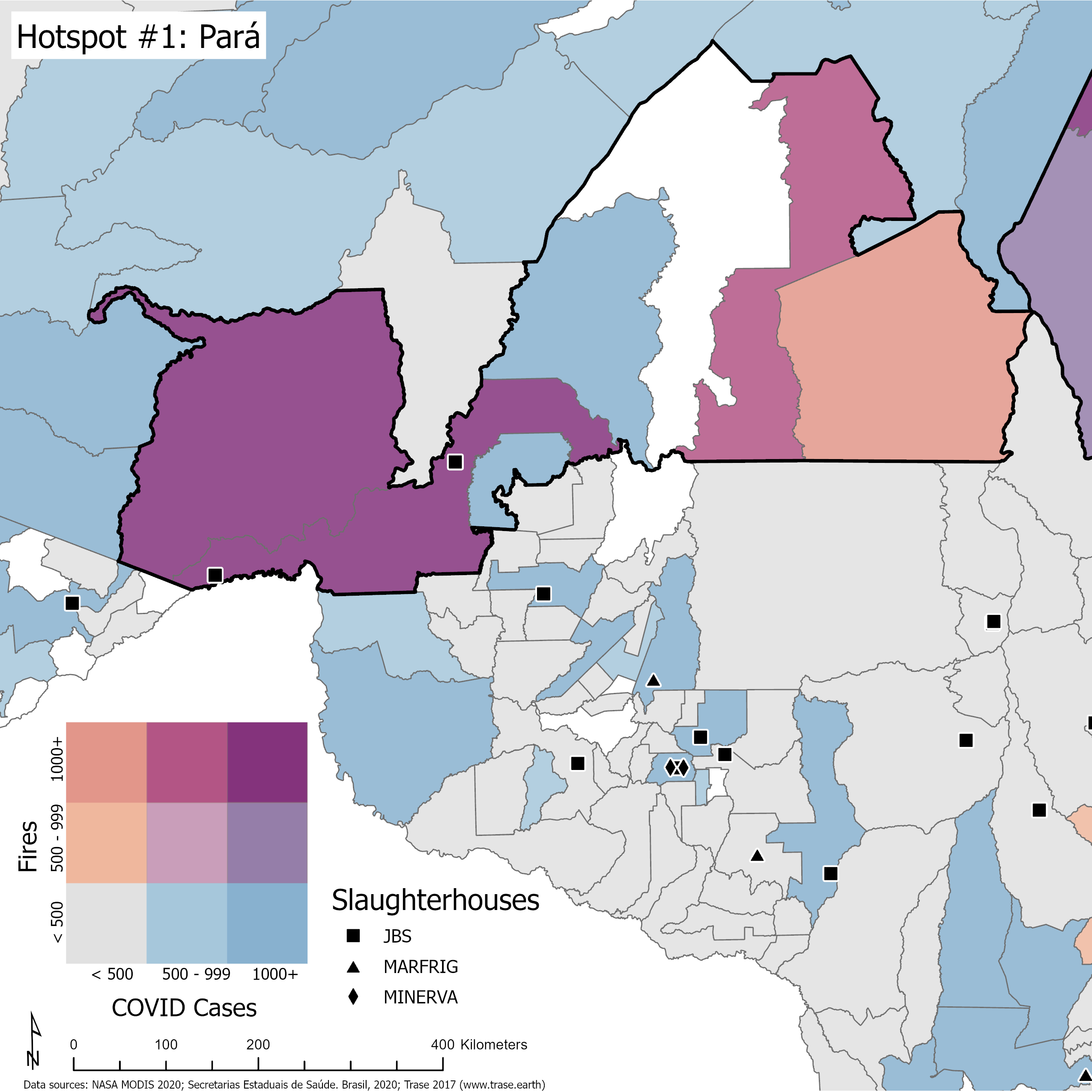 Although only 400 fires occurred in Hotspot 1 before July 15, fires surged to more than 10,500 between July 15 and August 16 in this region – making it the top fire hotspot in Brazil. This hotspot is located wholly within the state of Pará, with fires concentrated in the municipalities of Altamira, São Félix do Xingu, Novo Progresso, and Itaituba. The state of Pará is experiencing one of the highest growth rates for cattle expansion in Brazil. Available supply chain data shows beef production is concentrated in São Félix do Xingu, with Marfrig responsible for 27 percent and JBS for 17 percent of export from this municipality. However, the recent spike in fires indicates an industrial expansion into the western municipalities of this hotspot via illegal deforestation. Recent reports of cattle laundering on Apyterewa Indigenous Land in São Félix do Xingu linked to Marfrig's supply chain. The report further revealed almost 500 fires in the area and deforestation of 10 percent of the territory this year alone. 
This hotspot also exemplifies the impact of agricultural transport routes exacerbating forest clearance and harming local communities. Our analysis found that COVID-19 has spread through the local population at almost twice the rate of the national average. In the municipality of Jacareacanga alone, the virus has spread to more than 15 percent of the local population – more than ten times the national average. Highway BR-163 carves directly through the Amazon forest area to transfer agricultural goods from processing plants in Mato Grosso to trade ports along the Amazon River. As articulated by Indigenous leaders of a recent blockade of highway BR-163 protesting a proposed railway, forests and the Indigenous Peoples who protect them are exposed to high risk from this type of infrastructure. In addition to opening new areas of forest to illegal destruction, the Kayapó organizers blamed the highway for bringing COVID-19 to their community. Much like the highway threatens Indigenous communities, deforestation itself exposes all of humanity to the risk of future pandemics by increasing human interaction with infectious diseases.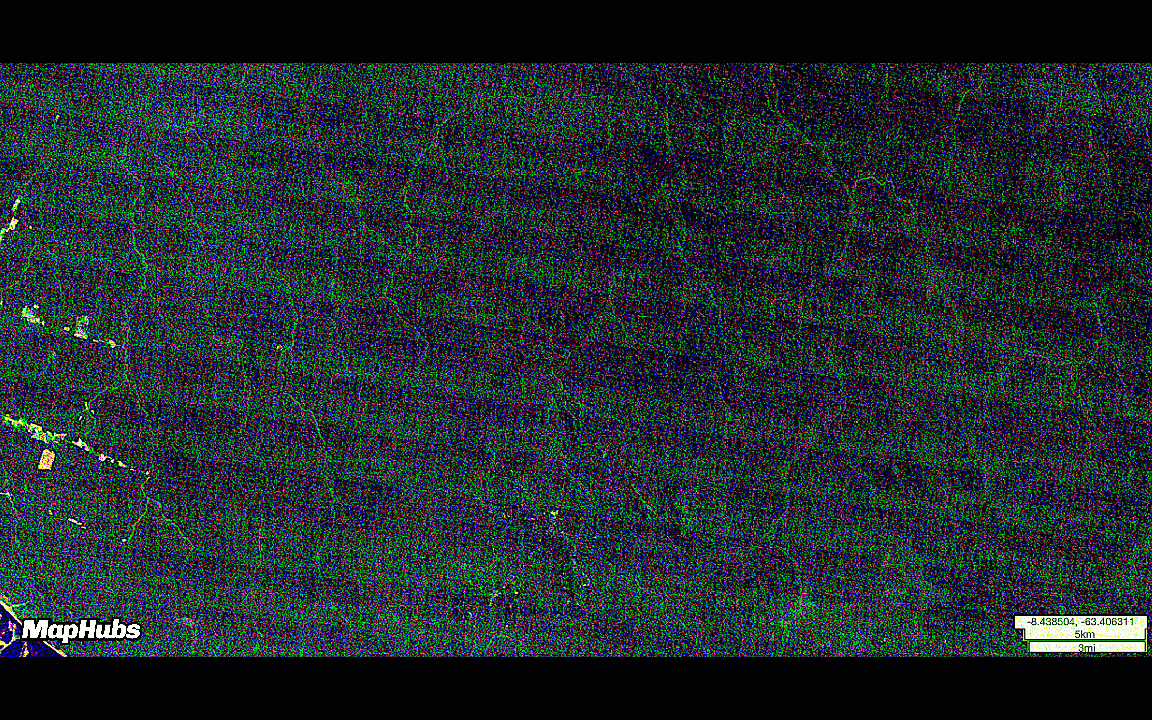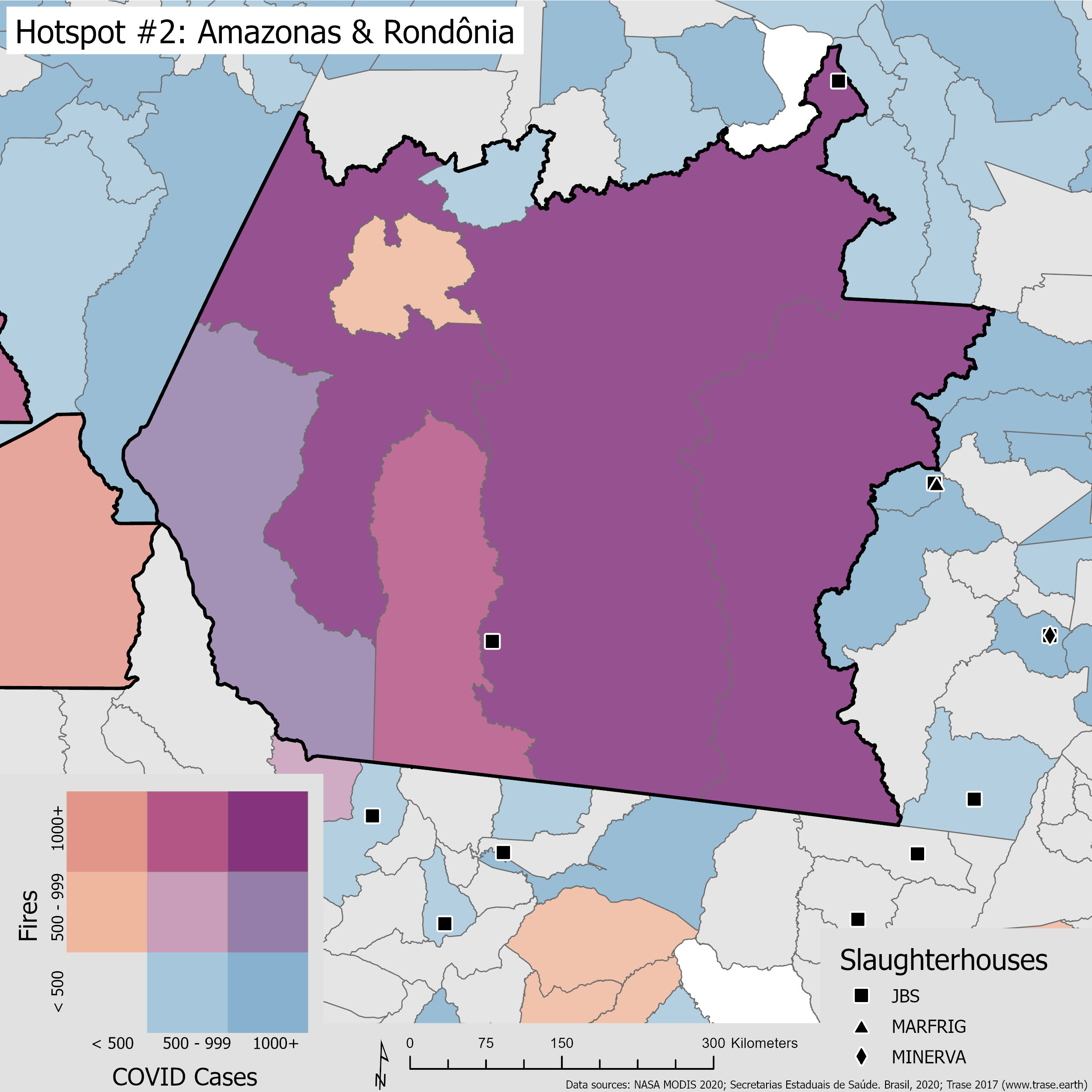 Hotspot 2 saw similar surges in fires between July 15 and August 16. The municipalities in this hotspot are clustered across the states of Amazonas and Rondônia. Such intense burning in this area, evidence of converting recently cleared forest to pasture, confirms recent findings that this area is a frontier of new expansion for the beef sector. However, due to the expanding nature of the sector, Trase's beef export data was not up to date for most municipalities in Hotspot 2. These municipalities are concentrated in Amazonas, a state that has seen a 209 percent rise in deforestation since Bolsonaro took office in January 2019. This deforestation often borders highways, which serve as an entry point for illegal ranching and wildlife poaching to encroach on untouched forest. However, the municipality of Porto Velho, which includes the state capital of Rondônia, exemplifies a trend in fires and stolen lands across this hotspot. 
Porto Velho has been intensively cleared by the beef and soy industries in recent years, including in protected areas like Jacundá National Forest. According to reporting by Amnesty International in July of this year, deforestation resulting from illegal land seizures in protected areas and on Indigenous territories has also been tied to big beef producers across Rondônia, especially JBS. This is done as a part of a process known as cattle laundering – where cattle are raised on properties tied to deforestation and transported to 'deforestation-free' properties just before being slaughtered – and emphasizes the importance of accounting for indirect suppliers throughout the Brazilian beef sector.  
With more than 30,000 cases recorded across this hotspot, COVID-19 has spread to more than twice as many of the local residents compared with the national average. In turn, a significantly higher share of the population is vulnerable to health risks as a result of the fires, like that of Rondônia's capital city Porto Velho, where COVID-19 has spread throughout its population. Unfortunately, those infected in this urban center are at risk of detrimental effects of suffering from COVID-19 while smoke from fires in surrounding areas worsens air quality.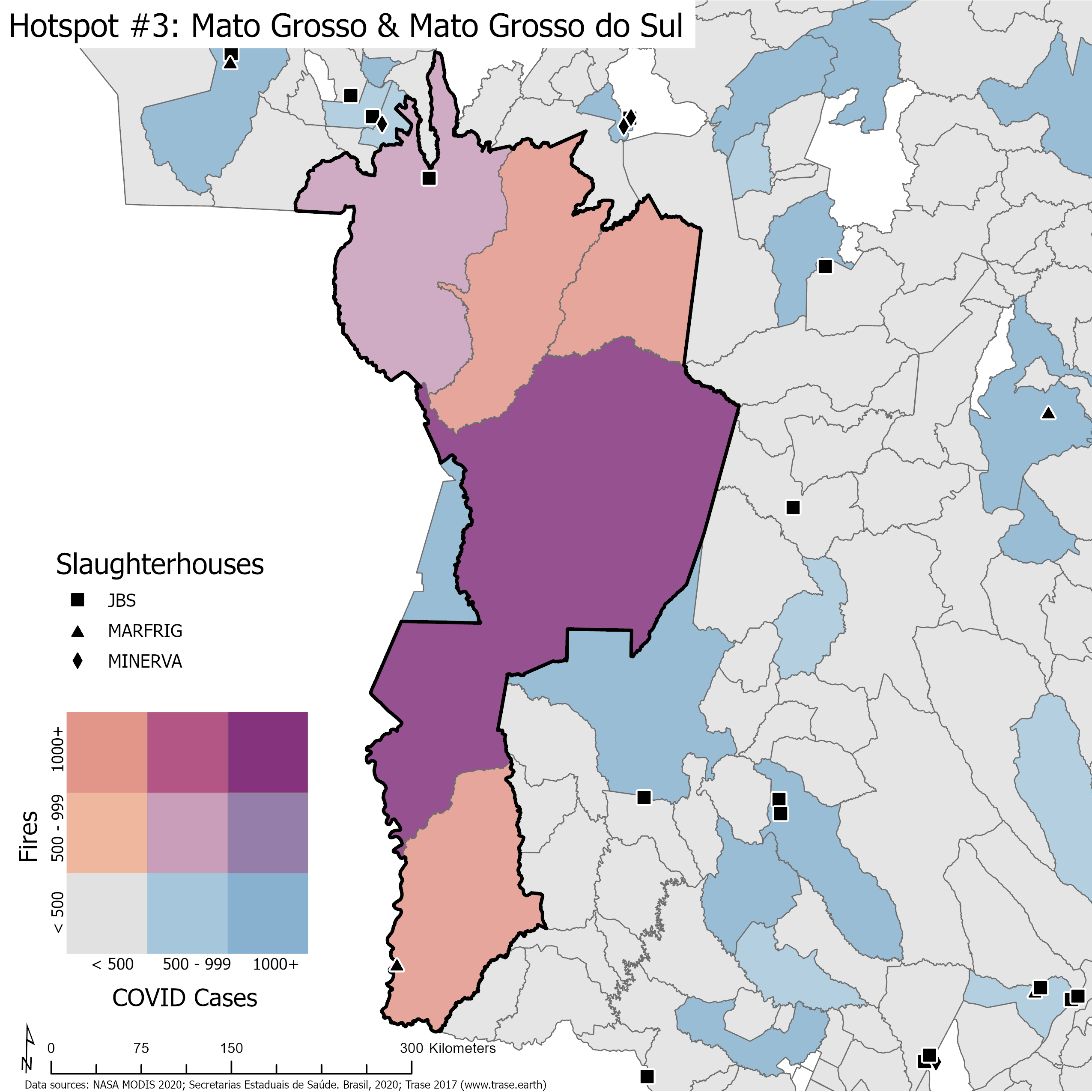 Hotspot 3 has experienced fires all year, particularly the municipalities Corumbá and Poconé. Between July 15 and August 16 fires across those two municipalities rose 158 percent from the total recorded throughout the first half of the year. As is visible in maps from Global Forest Watch, the fires in this region have been intensely clustered, extending beyond borders with Indigenous territories or protected areas. This signals a departure from the trend seen in the other two hotspots, where fire locations correlate with existing agricultural land. Instead, vast areas of land in Hotspot 3 have burned, regardless of protected status and border areas with Indigenous lands. Whereas analysis of the other two hotspots indicate an expansion zone for the beef industry, this hotspot has a well-established presence in available supply chain data. In fact, it exports twice as much beef as the other two hotspots combined, 92 percent of which is exported by JBS and Minerva. 
While this hotspot reported the lowest share of its population infected with COVID-19 compared to the other hotspots, it demonstrates another unsettling trend in the spread of COVID in meatpacking facilities. In its Emergency Response Plan, Articulação dos Povos Indígenas do Brasil (APIB), representing more than 500 Indigenous cultures of Brazil, blames JBS meatpacking facilities for infecting Indigenous communities with COVID-19 across Mato Grosso do Sul. Earlier this summer a JBS slaughterhouse just outside of this hotspot became the epicenter of a COVID-19 outbreak and was forced to temporarily shut down when 30 percent of its workforce tested positive for the virus. This has occurred in a handful of cases, where exposure to COVID-19 is heightened for Indigenous people who must to travel in crowded buses far from their territory in order to work in slaughterhouses due to limited employment options.
Hotspot 3 is located in the Pantanal Biome along Brazil's southwestern border with Bolivia and Paraguay. This region, which contains one of the world's largest wetlands, has been experiencing a serious drought. According to reporting by Greenpeace, the drought this region is experiencing (and the fires it has amplified) could be an indirect result of deforestation in the Amazon shortening rainy seasons. This is because a decrease in forest cover reduces the moisture that evaporates from the Amazon as a whole, shifting the flow of precipitation patterns and creating longer dry seasons in other parts of the continent.
Summary of Findings 
Our analysis demonstrates the speed and scale of destruction caused by uncontrolled agricultural expansion and its effects on the health of local communities. Fires have reached unprecedented levels across Brazil in 2020, irreparably destroying critical carbon-rich ecosystems and wreaking havoc on communities already vulnerable to COVID-19. The fires and their consequences are driven by a small handful of agricultural companies that supply meat to global markets, namely top meatpackers JBS, Marfrig, and Minerva.
The bulk of these fires is concentrated at the agricultural frontiers of Brazil, where Indigenous communities face the dual injustice of being underserved by critical public health infrastructure (and therefore limited in their capacity to manage risks imposed by COVID-19) while their land is being stolen and burned for industrial agriculture production.
The links between the fires, COVID-19, and deforestation are apparent in the following ways:
Hotspot 1 highlights how deforestation can result from establishing transport routes for key export commodities, like soy from Mato Grosso. This threatens Indigenous communities by disrupting crop production or endangering species they depend on for hunting, while also facilitating the spread of disease.
In Hotspot 2, illegal deforestation and encroachment into Indigenous lands has opened new area of forest to beef production and violated human rights. These fires, lit in the final phase of forest conversion, expose populations in surrounding areas to health problems and exacerbate potential risks for those vulnerable to COVID-19.
Both Hotspot 1 and Hotspot 2 cover municipalities in the Amazon where deforestation has occurred in recent years and their burning this year indicates expansion of the beef sector into those areas.
Hotspot 3 highlights two different ways the fires and the beef sector are connected: 1) burning in this region has been intense and on-going throughout the year due to a drought linked to the destruction of the Amazon, and 2) slaughterhouses have become hotbeds for spreading COVID-19 and exposed Indigenous communities with few economic opportunities to infection as a cost of living.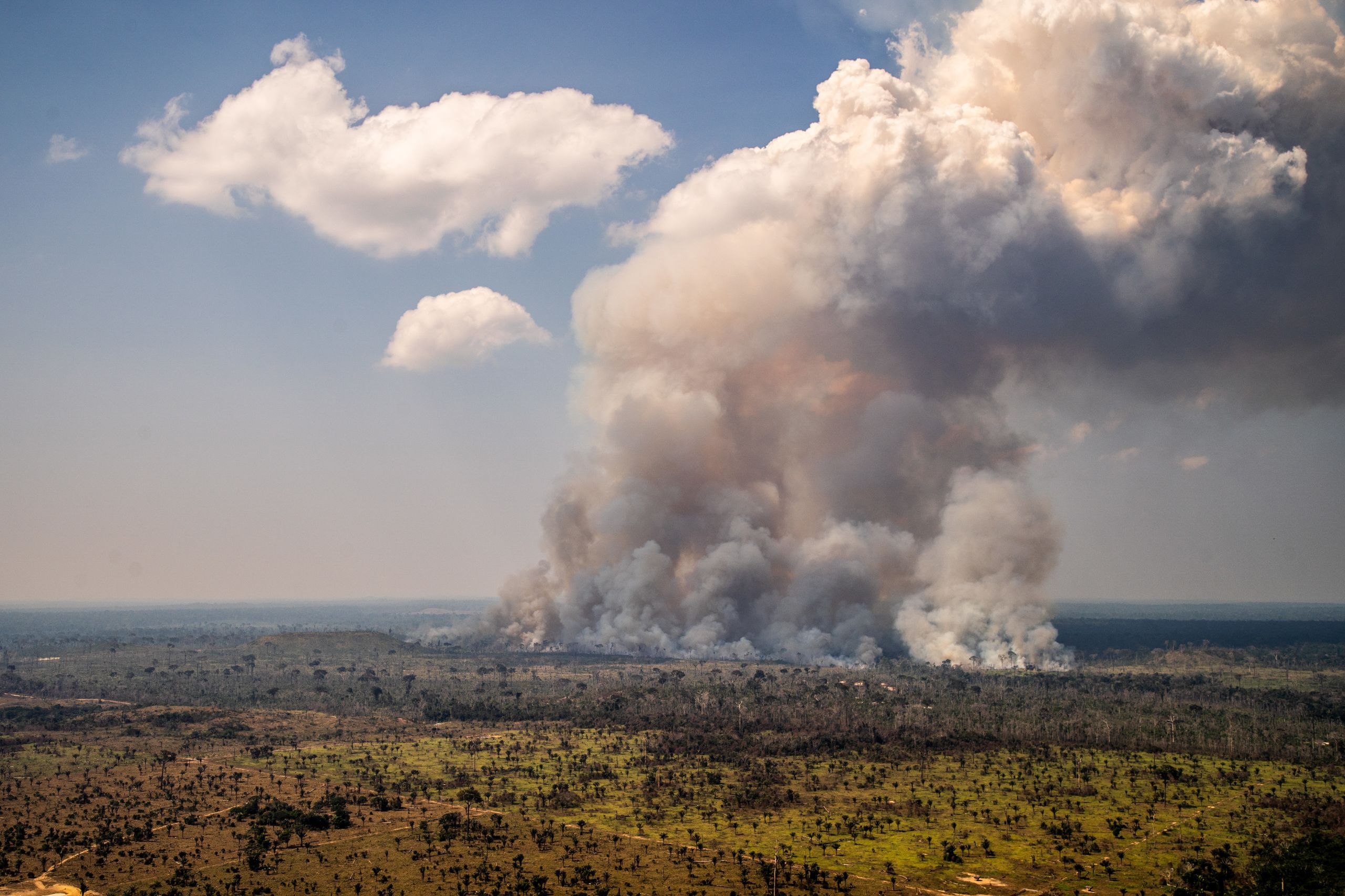 Forest fire smoke forms a dismal cloud over the an area next to the borders of the Kaxarari Idigenous Land, in Lábrea, Amazonas state. Photo Credit: 2020, Christian Braga/Greenpeace
Forest fire smoke forms a dismal cloud over the an area next to the borders of the Kaxarari Idigenous Land, in Lábrea, Amazonas state. Photo Credit: 2020, Christian Braga/Greenpeace
Buyers of Destruction 
Food companies that source and sell large quantities of meat have a critical role to play in holding their suppliers accountable for upholding the responsible business practices that the public increasingly expects. While roughly 80 percent of Brazil's beef is consumed domestically, the share of exported beef has increased in recent years as global demand for beef products rises. The beef sector has actually grown in 2020, despite global economic instability resulting from the COVID-19 pandemic. Brazil's soy production has also exploded in recent years, potentially surpassing the US as the world's top producer this year. Soy exports account for a much larger share of products in foreign markets, particularly that of the European Union. A recent study of Brazilian beef and soy exports to the EU found that up to 22 percent of soy and 53 percent of beef on the market is linked to illegal deforestation in Brazil. The proposed EU-Mercosur trade deal – an international agreement to ease market access and expand trade between the EU and Brazil, Argentina, Paraguay, and Uruguay – could significantly increase the share of Brazilian goods available to the EU market. Recent surveys found three out of four Europeans think the agreement should be stopped if it contributes to deforestation and environmental change.
Many major global brands have adopted no-deforestation sourcing policies for soy but have not applied these same standards to beef. The failure by major retailers and consumer goods manufacturers to address deforestation linked to their beef suppliers has allowed companies like JBS to continue sourcing from ranchers who steal land, clear forests, and violate human rights. JBS, the biggest meat producer in the world (by sales), has publicly committed to eradicate deforestation in its direct supply chain yet is continually linked to deforestation throughout its indirect supply chain. Soy traders have adopted more comprehensive zero-deforestation policies but have refused to commit to a deadline after which they will not source from suppliers who grow soy on recently cleared land. Without establishing full traceability and clear cut-off dates, these beef and soy suppliers are likely to continue profiting from these fires and exporting beef and soy to international markets.
As the 2019 report The Companies Behind the Burning of the Amazon found, global brands have a significant role to play in addressing this problem by leveraging their market influence and driving change across Brazil's beef and soy production. Major supermarket and fast food chains are critical channels of distribution for Brazilian beef both domestically and around the world, while soy is a common ingredient in food products and animal feed. Several of Brazil's biggest supermarket chains – Carrefour, Grupo Pão de Açúcar, and Grupo BIG – are owned by parent companies based in the EU and the United States, thus having an outsized responsibility as market leaders within Brazil and abroad. They must not be alone, however, and global grocery chains like Metro AG, Costco, Casino, and Ahold Delhaize (which owns supermarkets like Giant, Hannaford, Food Lion, and Stop & Shop) must immediately act to eradicate deforestation from their beef and soy supply chains.
Call to Action from Industry 
Global market action may be our last chance to protect critical forests from this yearly blaze and address the root cause of continued devastation, especially under a government that consistently puts profit over planet and its own people. Global investors have recently mounted pressure on Bolsonaro to support environmental protections, but meaningful action will not be realized until buyers of Brazilian beef demand it.
Most retailers in the Consumer Goods Forum have established no-deforestation policies for soy, but few have done so for beef. This is a critically important area of needed action because beef is a more direct driver of deforestation in Brazil. Especially considering the outsized role of indirect suppliers driving deforestation and burning the Amazon, meat production by JBS and others will continue unless their global buyers unify around clear, tangible demands for meaningful change.
Pressure from food retailers is also needed to push soy traders like ADM, Bunge, and Cargill to adopt cutoff dates for conversion, otherwise it will only be a few years before they are profiting off of soy grown where these fires are. With the potential for trade expansion between the EU and Brazil under the proposed Mercosur trade deal, it is critical that forest protections – including cutoff dates driving action and penalties issued for inaction – be incorporated for commodities like beef and soy.
Recommendations for Global Brands
The following list outlines actions that retailers and consumer goods companies can take to improve their performance on sustainable sourcing of beef and soy.
Companies should establish zero-deforestation policies across all beef and soy supply chains that include:
Stipulations across all beef and soy supply chains throughout Brazil and other South American countries
Full traceability of beef and soy products by requiring producers to account for direct and indirect suppliers through a regular reporting procedure
Clear cutoff dates that set a deadline for deforestation linked to production in the region
Commercial penalties for cases of non-compliance by beef and soy suppliers, in addition to procedures for a 'suspend and engage' approach
Transparency across supply chains by establishing independent, third-party monitoring mechanisms and making reports evaluating progress toward commitments publicly available
Measures to ensure beef and soy producers' compliance with government policy, particularly regarding environmental protections and human rights

Methodology 
This analysis was informed by a review of the following data: number of recorded fires, total recorded COVID-19 cases and corresponding population estimates, volume of beef exported, and share of exports by Brazil's top beef companies (JBS, Marfrig & Minerva). MapHubs collected data on the fires and COVID-19 (see full data here), which was then assessed at the municipality level to ensure consistency of analysis across the country. This allowed for more thorough comparison of impacts than would be possible at the state-level data, which does not easily define population distribution or economic production. Because there are more than 5,500 municipalities in Brazil, this analysis was limited to an analysis of 19 municipalities that reported the most fires between July 15 and August 16 (ranging from purple to orange on the map). This group of municipalities accounts for half of all fires recorded in Brazil during the indicated time period and is located in the states of Pará, Rondônia, Amazonas, Mato Grosso, and Mato Grosso do Sul. For the purpose of analysis and reporting, the municipalities were consolidated into three distinct hotspots to highlight the beef industry's links to fires and the spread of COVID in three distinct ways.
The data was sourced from a variety of credible and publicly available databases. Data from NASA's MODIS satellite detection provided figures on recorded fires in each municipality. Figures for 2019 fires and forest loss were found in Global Forest Watch's Brazil Dashboard. To determine key supply chain drivers in each area we looked to Trase's most recent available data on the beef industry (2017), particularly trade volumes and deforestation risk. It is important to note that this indicator was measured only on exported volume and companies which produce Brazilian beef for export. The accuracy of our findings is relative to 2017, so they are potentially skewed as they do not reflect the sector's expansion over the last three years. All COVID-19 data was sourced from the Brazilian government's website reporting COVID-19 cases and deaths across the country. To capture the impacts COVID-19 has had on these municipalities, the total case count (rather than death rate) was used throughout this analysis. For purposes of comparison, the case count has been listed and compared with the national average in particularly significant cases.